Your Personal Page on the HSE Website
Obtaining access to edit your personal page
Your personal page is an easy-to-manage place on the HSE website that is found in the general list of university staff members. It is intended as a place for you to present your academic achievements and interests to colleagues, students and the public.
Some elements of your page are connected to HSE databases, and information might be included automatically. Do not be surprised if you find something already there before you have even started to add your own information.
 On Populating Staff Profiles on HSE Corporate Portal (PDF, 92 Kb)
 Appendix 1 Standard for Populatinbg and ..ng Staff Profiles on HSE Portal (PDF, 199 Kb)
 Appendix 2 Layout for Personal Profiles of Different Staff Categories (PDF, 412 Kb)
 Appendix 3 Apponitment Procedures and Duties of Designees (PDF, 65 Kb)
 Appendix 4 Procedures for Populating and..f Different Categories of Staff (PDF, 91 Kb)
If you have any questions on updating your personal page, please contact personal profile page coordinators, who monitor pages of faculty/division staff members.
Obtaining access to edit your personal page
There are two versions of your personal page on the HSE website – Russian and English. Your Russian profile will be generated automatically several days after your work contract takes effect. Once your profile is online, you can be granted access to edit it yourself by submitting an application to the HSE Office of Online Media Resources at portal@hse.ru. Access to your user profile will be activated within one business day.
Note that the access can only be granted after HR department finishes processing all relevant documents and your data appears in HSE database (in order words, if you find your name on the general list of staff it means that the data has been uploaded and you can get access to your personal profile page).
You can edit your personal webpage through your user profile on the HSE website. To open the English version of your personal webpage, you need to change its status manually (see below). It will then be checked by an English version editor and published online.
Your personal page
 Personal profile page fields (DOCX, 17 Kb)
Required fields that are downloaded automatically from the HR database
Name, surname
Department and position
Employment start date  
Total years of employment (if applicable)
Length of teaching and research experience (if applicable)
Education (if applicable)
Academic degree (if applicable)
Academic title (if applicable)
Awards and achievements (if applicable)
Timetable (if applicable)
Required fields that have to be completed by the user
Continuing education / Professional retraining / Internships / Study abroad experience (if applicable)
Professional interests – choose tags from the list of keywords
Patents and intellectual property rights certificates (if applicable) – indicate the exact title of the patent/certificate, with number and date. This field has to be completed with the support of the Legal Support Office.
Membership in editorial boards of academic journals (if applicable)
Publications
Grants (if applicable)
Academic supervision (if applicable) – this field shows doctoral students that work under your academic supervision; it has to be completed with the support of the Office of Doctoral Studies
Courses (if applicable) – this information downloads automatically from the ASAV comprehensive academic information system. Please make sure that it is correct. The Office of Degree Programmes is responsible for the system.
Work experience or CV
Language proficiency
Photo
Work address
Email
Working hours / consultation hours
Supervisor
ORCID (if applicable)
Researcher ID (if applicable)
Scopus Author ID (if applicable)
Google Scholar (if applicable)
Optional fields
Presentations at academic conferences and seminars
About me
Phone
Accounts in social media
Names of positions, HSE departments, and universities are usually translated into English automatically. If this does not happen, an editor will add the translations when checking your personal page.
Please add your name, middle name, and last name in English yourself, so that it is spelled correctly.
If you see any mistakes in the information that is automatically generated, please report them by sending an email to portal@hse.ru.
Personal pages can be edited by:
1.      The employee
2.      Representative of the employee (director, dean, vice rector)
3.      Editor of the department's website (they are granted rights to edit the department's website and personal pages of all its staff members)
4.      Person responsible for personal pages (who edits only personal pages of the staff in a given department)
If you have forgotten your password, send a request for a new password to portal@hse.ru. The request should be sent either from an HSE email address or from the address indicated on the employee's personal page.
Editing your personal page
There are instructions on how to edit personal pages directly in the user profile. To see them, click the big blue button that reads 'How it works'.
Adding new tabs
If you want to add information that does not fall under one of the suggested tabs, you can create a new tab. To do so, click the button <Add Tab>, enter a heading in Russian and/or English, and press <OK>.
You can then add the necessary information in the new tab. Click <add text> and complete the fields.
Working with the tabs
The blocks marked with a 'lock' are generated automatically from various HSE databases and cannot be changed, deleted or moved. Blocks not marked with this symbol can easily be moved with a mouse, and their order can be changed. You can add a new block by clicking <add text>. The new block can also be dragged to any other tab.
If you have deleted a block that is contained in one of the tabs by default and where the information is generated automatically, you can easily restore it by clicking <+> at the bottom of the tab. You will see the list of blocks that can be restored.
If you have deleted a block that was created manually, you will not be able to restore it automatically. You will have to enter the information again manually.
Please note that all changes are saved only after you press the <Save> button. If you delete something occasionally, or added something incorrectly, simply close the page without saving.
To keep the text in all tabs in one style, please use one of the following methods to add the information:
1.      Complete all tabs and fields directly in the user profile, without copying it from word processors, browser etc.;
2.      First copy the text to Notepad, then copy it from Notepad directly to the text field in the user profile;
3.      Use the <Insert from Word> button. If the text still appears different from automatically generated tabs, use the <Remove formatting> button;
4.      Copy the text using the <Insert only text> button. In this case all the formatting will be removed;
5.      After inserting the text in the text field, select the entire text and press the button <Remove formatting>.
Professional interests
Press <Add (English)>, enter the keyword, and press <Find>. You will see a list of interests with the keyword. Choose a word or word combination, and press <Select>.
The photo is uploaded from the security service database. Once a week, the Security Office sends photos to the HR Office, which uploads them to the HR database. Employees can also add a photo themselves. To do so, choose <Photo> in the personal profile. You will see the interface for uploading a photo. Press <Crop> to select the part of the image to be shown on the personal page. Press <Save>!
Please choose a recent photo that people will be able to recognize you from easily.
Attaching course syllabi on teachers' pages
All courses from the curriculum must have a file with the syllabus. The syllabus should be attached to the course description either by the responsible person in the department or by the course author.
Scopus, SPIN RSCI, ORCID, Google Scholar and other databases
If you have any questions regarding these databases, please contact your personal profile page coordinator.
'Supervisor' field
The immediate supervisor is indicated in this field.
The HSE website maintains a database of publications by all university staff. All publications are added manually by their authors. Publications should be added as soon as possible after they are issued.
Below is a brief guide on how to add a publication. Please also see the full reference on adding publications.
Adding publications
New publications are added in the user profile. In order to add a publication, please complete the following steps:
1.      Follow the 'Publications' link in the Research and Publications section of your personal profile.
2.      Click link 'full list' in the 'Publications' field.

3.      On page Publications on the personal webpage, click link 'Adding/editing publications' and complete the form for each publication.
To make the publication visible in the database and on your personal page, change the publication's status to 'Ready'.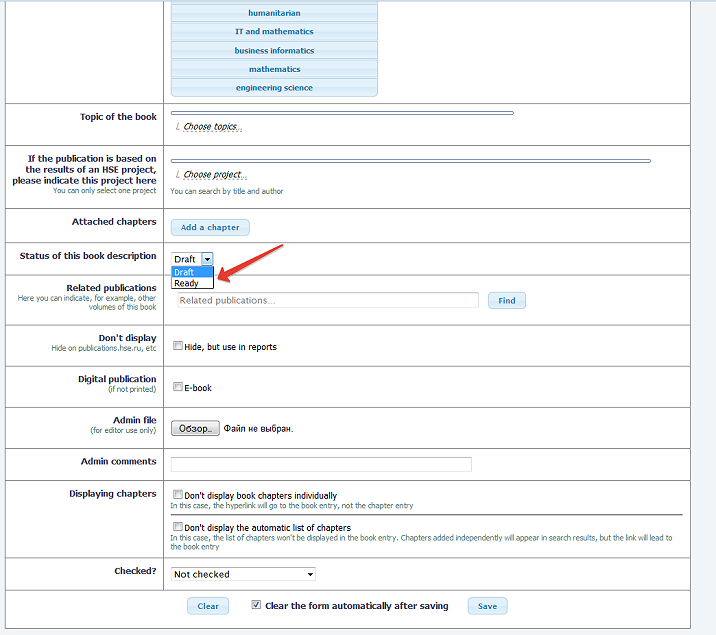 Staff members from the Office of Online Media Resources can help you add a publication to the database. If you need help, please send a completed form to publications@hse.ru.
If you wish to add a mass media item, click on 'Mass Media items' section (in the right-hand column under your photo).

Attaching a CV
You can add a short biography in the 'Additional information' field. You can also add a longer version as a separate file. To do so, choose the 'Attach CV' section and upload the file.
Status of the English version
While the Russian version of a personal page opens immediately, the English version needs to be checked by a website editor who verifies that the name and last name, department and position, and names of universities in the 'Education' field are translated and displayed correctly in English.
When you are finished adding information, change the status of the English version to 'Ready'. The page will be checked and published within one week. If you need your page to be published urgently, please contact Maria Besova at mbesova@hse.ru.
Applications
In your user profile you can add applications, including for academic mobility or financial support to participate in academic events.
Frequently Asked Questions:
Can I make a custom link to my personal page?
Yes. In the 'Employee information' section of your personal area, select 'Personal webpage address.' There you can add a unique name for your HSE webpage in Latin characters.
My publications are not displayed on my personal page. How do I make them visible?
You can add them yourself in the 'List of publications' section of your personal area on the HSE website. Follow the link 'Adding/editing publications'. Or you can contact publications@hse.ru for help from the Office of Online Media Resources.
My personal page is unavailable.
There can be two reasons for this: 1. You started working only recently, and the paperwork has not been completed yet. As soon as all the documents are processed by the HR Department, the page will be available. 2. An error has occurred; please contact portal@hse.ru.
How do I manage the display of publications on my page?
You can manage the way your publications are displayed. Enter your personal area, and then select 'List of publications,' followed by 'Settings.' There you can set the way your publications are displayed, ordered and grouped.
<Teaching> tab is not shown
Check whether the lecturer is in the ASAV system and whether his or her workload is indicated there. If everything is correct and the data were entered some time ago, please contact portal@hse.ru.
Positions on the English version are shown in Russian
Contact portal@hse.ru
Have you spotted a typo?
Highlight it, click Ctrl+Enter and send us a message. Thank you for your help!